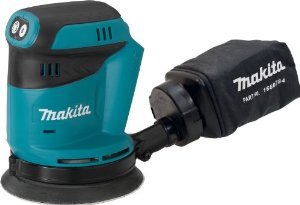 Note that there is a new version of the Makita LXOb01Z cordless sander, the Makita XOB01Z 18V LXT Lithium-Ion Cordless Random Orbit Sander. Here you can learn more about the Makita XOB01Z Cordless Random Orbit Sander
The Makita LXOB01Z is a cordless random orbit sander but as powerful as a corded sander. This gives top performance without being limited by a power cord. The only drawback is that it becomes very expensive if you need to buy a charger and batteries.
The sander has three speed settings, 7000, 9500 and 11000 OPM. It uses standard 5-inch (8-hole) hook-and-loop abrasive papers. The built-in through-the-pad dust collection works well. It does not pick up all the dust but most of it. The sander is easy to operate and it is quiet. Apart from the price, the Makita LXOB01Z does not have any major shortcomings.
The Makita LXOB01Z uses 30 minute quick-charge 18V Lithium-ion batteries. You get up to 40 minutes of run-time using the slow speed, 7000 OPM, and up to 20 minutes using the high speed, 11000 OPM. The battery makes the LXOB01Z a little bit heavier than most random orbit sanders but it is far from heavy, only 3.6 lbs. Some people actually think that the weight of the battery makes the sander well balanced.
Note that the Makita LXOB01Z includes only the sander, no charger or batteries are included. If you need both a battery charger and 18 Volt Lithium-ion batteries, the Makita LXOB01 cordless sander is the right sander for you. It is the same sander as LXOB01Z but with a battery charger and two 18V Lithium-ion batteries included. Here you can learn more about the Makita LXOB01 Sander kit
The Makita LXOB01Z sander comes with a one year limited warranty. A dust bag is included with the sander.
Pros
– Cordless but powerful
– Well balanced
– Quiet
Cons
– Expensive
– No battery or charger included
Makita LXOB01Z Random Orbit Sander Specifications
| | |
| --- | --- |
| Pad Size | 4-7/8 |
| Abrasive Disc Size | 5″ (125 mm) |
| No Load OPM | 7000, 9500, 11000 |
| Orbit Diameter | 1/8 |
| Battery | 18V Lithium-Ion |
| Standard Battery Cartridge | BL1830 |
| Overall Length | 6-7/8 |
| Dimensions (LxWxH) | 6-7/8" x 4-7/8" x 6" (175 mm x 123 mm x 153 mm) |
| Net Weight (lbs. w/battery) | 3.6 (1.7 kg) |
| Shipping Weight (lbs.) | 2.83 |


Makita LXOB01Z Sander Customer Reviews
With an average customer rating of 4.8 out 5, most customers are very happy with their Makita LXOB01Z. Everyone is surprised how powerful the sander is. No one complained about that the sander is a little bit heavier than most other random orbit sanders. Some customers actually thought that the battery made it well balanced. On the whole, nobody had found any significant drawback with the LXOB01Z sander.
The following are two typical quotes from customers:
"It's surprisingly powerful, even though it's cordless, and the vacuum collects the worst of the dust. For light sanding work, I highly recommend this."
"this is amazing piece of equipment. Period. No free spinning problem that I have with my old(er) Dewalt sender. Perfect control of the unit. Start is smooth, changing the speed is a snap."
Customer comments were paraphrased to save space.
You can read more Makita LXOB01Z sander reviews here
Makita LXOB01Z Cordless Sander Review Summary
The Makita LXOB01Z is an excellent cordless random orbit sander. The only real drawback is that it is expensive. If you don't need a cordless sander, you can save a lot of money by buying a good corded random orbit sander instead. But if you want a cordless sander, the Makita LXOB01Z is the right sander for you.
You can buy the Makita LXOB01Z Cordless Sander at Amazon.com, taking advantage of Amazon's low prices and excellent customer service. Click here to go to Amazon.com