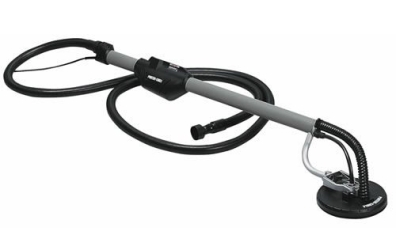 A drywall sander may not be the most common of power tools but if you are into DIY, you may sometimes need a drywall sander. It will save you a lot of time but unfortunately, a good drywall sander is expensive.
One of the best drywall sanders is the Porter-Cable 7800, it is expensive but you get what you pay for. It is relatively lightweight but powerful. Variable speed, 5 settings, makes it possible to choose between control (using low speed) and fast stock removal (using high speed).
One of the main advantages of the Porter-Cable 7800 is its excellent dust collection. You are supposed to use a shop vac. The hose is 1 1/4″ so you may need an adapter if you have a 2 1/2″ shop-vac. Of course, there will be a little bit of dust which is not collected but clearly less than with most other sanders.
Additionally, it has hook-and-loop straps for easy mounting and handling as well as a 13-foot vacuum hose making it very mobile. It uses standard 8-7/8 inch hook and loop abrasive discs.
The Porter-Cable 7800 Drywall Sander comes with a one year limited warranty.
Pros
Very good dust collection
Easy to use
Efficient sander
Cons
Porter-Cable 7800 Drywall Sander Specifications
| | |
| --- | --- |
| Voltage | 120 V 60 HZ |
| Amp | 4.7 Amp |
| Battery Type | AC Only |
| Variable Speed Control | Yes |
| Orbits/Min | 1,400-2,000 RPM |
| Disc Size | 8-7/8 inch (Hook & Loop) |
| Dust Collection | Built-in 13′ Static-dissipating 1-1/4″ vacuum hose |
| Weight | 8.5 pounds |
| Shipping Weight | 17.6 pounds |


For more details, you can read the Porter-Cable 7800 Drywall Sander User Manual here


Porter-Cable 7800 Drywall Sander Customer Reviews
With an average customer rating of 4.4 out of 5, it is quite clear that the customers are happy with their Porter-Cable 7800 Drywall Sander. Most of the customers said that it was easy to use, efficient and had a very good dust collection system.
Although the Porter-Cable 7800 is not heavy (8.5 pounds), some of the users said that after a while their arms got tired, especially when doing ceilings. Since the Porter-Cable uses round discs it cannot reach all the way into corners but nobody was really concerned about this. Probably because it is only a very small part of the corner you have to take care of manually.
Here are some typical customer comments:
"life saver for ceiling work! product worked as described and has very little dust when using. I used my shop vac and installed the high efficiency bags. this worked fine. the tool works great and has plenty of power. "
"Saves a ton of time & reduces dust. The quality of the sander & length is much better than other (similar) sanders."
"This is a great tool. I have been using it in conjunction with the Porter Cable Power Tool actuated Wet/Dry vacuum and after over an hour of sanding it left my job virtually dust free. The variable speed on the head is a plus and changing the sandpaper is a breeze. The vacuum is a little noisy, as one would expect from any powerful shop vacuum, and the sander does get heavy after a while."
"I have had this unit for over three years now and it has saved me countless hours of sanding mud and hiring a drywall crew. I build custom homes and do remodel work for a living,so any tool that saves me time and makes me money is worth it. I would highly recommend this sander for anyone who is in the trades, you wont be sorry!"
Customer comments were paraphrased to save space.
Here you can read more Porter-Cable 7800 Drywall Sander customer reviews
Porter-Cable 7800 Drywall Sander Review Summary
The Porter-Cable 7800 is an excellent drywall sander. It is easy to use, efficient and it has good dust collection. The only drawback is that it is expensive. If you are going to use it a lot, then it is a very good investment. If you are going to use it only once or twice, it will most likely be cheaper to rent a drywall sander.
You can buy the Porter-Cable 7800 Drywall Sander at Amazon.com, taking advantage of Amazon's low prices and excellent customer service. Click here to go to Amazon.com