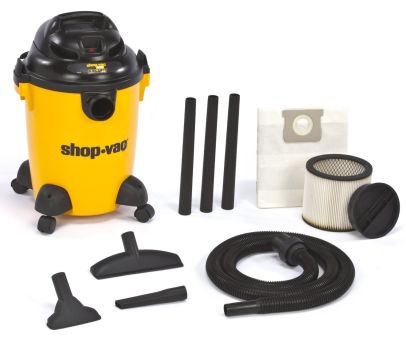 The Shop-Vac 9650600, sometimes written 965-06-00, is a very versatile little shop-vac. It is perfect for many tasks around the house, such as cleaning cars and garages. Since it is wet and dry vacuum it can also be used to suck up water. Even better, it can also be used as a blower. And best of all, it is cheap! Is it too good to be true?
The Shop-Vac 965-06-00 is made of plastic, which makes it look cheap. But plastic have some advantages as well, do problems with dents or rust and it makes the shop vac lightweight. It is relatively quiet and easy to operate. And as mentioned, it can be used for a wide variety of cleaning tasks.
The Shop-Vac 9650600 have some shortcomings. One annoying thing is the short cord, only 6 feet. Fortunately, that is easy to fix, just get an extension cord. The narrow hose is a potential problem, it does not matter if you are just cleaning up small stuff. But larger debris may get stuck.
Another thing to be aware of is that even if the Shop-Vac 965-06-00 is powerful for its size and price, it is not powerful enough for heavy-duty cleaning. For that you need a more powerful shop-vac than a 3 HP model.
All in all, the Shop-Vac 9650600 is perfect for cleaning tasks around the house, it is very versatile. It is a wet/dry vacuum and it can also be used as a blower. You getting excellent value for the money.
The Shop-Vac 965-06-00 is covered by a 3 year limited warranty.
Pros
Both Vacuum and Blower
Wet or Dry Vacuum
Quiet
Excellent Value for the Money
Cons


Shop-Vac 9650600 Wet/Dry Vacuum Specifications
| | |
| --- | --- |
| Air Flow | 140 (CFM) |
| Sealed Pressure | 57 (inches) |
| Electrical Ratings | 120V, 60Hz, 8.2Amps |
| Peak Air Watts | 230 |
| HP (Peak) | 3.0 |
| Power Cord | 6 Feet |
| Tank Size | 6 Gallon |














You get the following with the Shop-Vac 965-06-00
1-1/4″ Dia. X 8′ Lock-On Hose
three 1-1/4″ Extension Wands
10″ Wet/Dry Nozzle
Gulper Nozzle
Crevice Tool
Cartridge Filter
Disposable Filter Bag


Shop-Vac 9650600 Wet/Dry Vacuum Customer Reviews
The customers have given the Shop-Vac 9650600 an average rating of 4.2 out of 5. Almost everyone thought that they had got very good value for their money.
Most of the customers thought that the Shop-Vac 9650600 was very versatile, thanks to being a wet/dry vacuum as well as a blower. The buyers had found a lot different uses for the Shop-Vac. Some are even using the Shop-Vac 965-06-00 as a replacement for their vacuum cleaner.
Some customers very unhappy with the suction power of the Shop-Vac 9650600, commercial grade shop vacs are much more powerful, but also much more expensive. The most common complaint was the cord, only 6 feet, an extension cord is necessary.
Here are a few typical customer quotes:
"Great, great product. Very easy to assemble. Love the two-way feature: can be used as a vacuum or as a blower, which I love for the front porch and back patio areas. Very lightweight (to me) and easy to carry. Lots of accessories."
"We bought this Shop Vac to clean "dirty" things around the house – the endless dirt/dust in the garage, spider webs on the porch, the grimy basement, you name it. We've kind of fallen in love with it, if you can fall in love with a vacuum."
"I use this as my basement workshop vacuum for most sanding and routing. The hose is a bit small, but its necessary for this size vac in order to have enough suction. As a result, it is very easy to clog the hose. Its great for sawdust collection and wet spills, but not for larger debris."
Customer comments were paraphrased to save space.
Here you can read more Shop-Vac 965-06-00 customer reviews.


Shop-Vac 9650600 Wet/Dry Vacuum Review Summary
The Shop-Vac 9650600 gives you excellent value for the money. It is a very versatile shop-vac, wet/dry vacuum and blower all packed into one compact and lightweight unit. It is not as powerful as commercial shop vacs but it is sufficient for standard cleaning tasks around the house. If you are looking for a good shop vac for your home, then you should have a close look at the Shop-Vac 965-06-00 Wet/Dry Vacuum.
You can buy the Shop-Vac 9650600 Wet or Dry Vacuum at Amazon.com, taking advantage of Amazon's low prices and excellent customer service. Click here to go Amazon.com