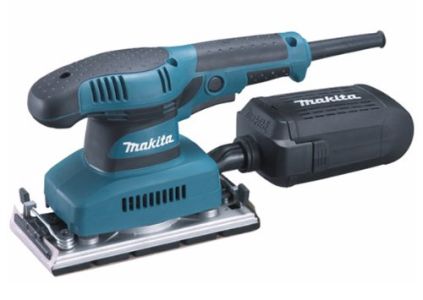 The Makita BO3710 is a very good finishing sander, also known as a sheet sander. It is not the cheapest sander but you get what you pay for, a quality finishing sander. The BO3710 is a powerful and versatile 1/3 sheet sander.
The Makita BO3710 is easy to operate, it is relatively lightweight, no problems to use it on vertical surfaces. Thanks to the ergonomic rubberized grip and handle as well as a built-in counterbalance system designed to reduce vibrations, it is comfortable to use. Despite being a powerful sheet sander, the Makita BO3710 is quiet.
The built-in dust collection is good, it picks up most of the dust, and it is easy to change papers. A 1/3 sheet sander has the advantage of being more powerful than 1/4 sanders and less heavy than 1/2 sanders. To summarize, a quality sheet sander which gives you good value for the money.
The Makita BO3710 finishing sander does not really have any significant shortcomings. A small problem is that if you want to connect it to a shop vac, you need an adapter and no adapter is included with the sander.
The Makita BO3710 comes with a 1 year limited warranty.


Pros
– Quiet
– Powerful
– Good value for the money
Cons
– No adapter for shop vac included
Makita BO3710 Sander Specifications
| | |
| --- | --- |
| Pad Size | 3-5/8″ x 7-1/4″ (93 mm x 185 mm) |
| Abrasive Paper Size | 3-5/8″ x 9″ (93 mm x 228 mm) |
| No Load OPM | 11,000 |
| AMPS | 1.7 |
| Overall Length | 10″ |
| Cord Length | 6.6 feet |
| Net Weight (lbs.) | 3.5 |
| Shipping Weight (lbs.) | 5.1 |















The following is included with the Makita BO3710 Finishing Sander
Abrasive Paper (#120; Makita 794568-3)
Dust Bag (Makita 140115-2)
Punch Plate (Makita 451271-6)


Makita BO3710 Sheet Sander Customer Reviews
With an average customer rating of 4.7 out of 5, almost every single customer is very happy with the Makita BO3710 sander. Virtually everyone said that the BO3710 is a powerful and quiet sander which is easy to operate. Most of the buyers thought that they had got very good value for their money.
No had found any significant shortcomings. A few complained about the difficulty of attaching the BO3710 to a shop vac. An adapter is needed for this and none is included with the sander. Given the relatively high price, some buyers had expected to get an adapter with the sander.
Here are a few typical customer comments
"I wanted a 2 handed sander and they are hard to find, all the local stores sell palm sanders. This sander is great, much less vibration and noise than the old B&D, the paper is held on securely by heavy metal clamps (no way it's going to come loose) and the dust bag picks up about 70% of the dust. It removes excess wood filler quickly and effortlessly. It costs more but well worth it."
"This is a very good sander. It performs well with little vibration. It has the weight needed to sand a piece without the operator needing to bear down. This means you are more likely to have proper sanding technique."
"This Makita sander is Great, durable pad, fast sanding, low vibration and excellent dust collection, only complaint is the port is too small for a normal vac hose to fit if you need something more then the small reusable bag. Excellent sander for the money!!!!"
Customer comments were paraphrased to save space.

Here you can read more Makita BO3710 customer reviews


Makita BO3710 Sander Review Summary
You can find cheaper finishing sanders than the Makita BO3710 but it is a quality sander. It is powerful, quiet, low vibrations and has good dust collection. The 1/3 Makita BO3710 sheet sander offers good value for the money. It is an outstanding finishing sander.
You can buy the Makita BO3710 sheet sander at Amazon.com, taking advantage of Amazon's low prices and excellent customer service. Click here to go to Amazon.com