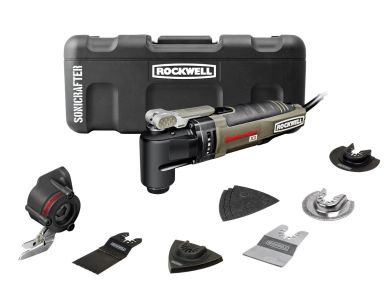 Average Customer Rating: 4.7 out of 5 [xrr rating=4.7/5]
An oscillating multi-tool can be used for a lot of DIY tasks around the house. The Rockwell RK5140K is one of the most popular oscillating multi-tools on the market. It is lightweight but powerful and quiet.
The Rockwell RK5140K can be used to quickly and easily make intricate end cuts or plunge cuts in wood and other materials. It also can cut sheet metal or fiberglass, and saw off copper pipe, PVC or other tubing flush to a flat surface. Additionally, it can be used for sanding, scrape loose paint, take rust to bare metal for priming or remove hardened adhesives, and much more.
Changing blades is very easy and fast thanks to Rockwell's Hyperlock tool-free blade change system. Another advantage is the Rockwell's proprietary Universal Fit system. You don't need to use only Rockwell accessories and blades, almost all blades can be used. This can save you a lot of money.
Thanks to the 3 Amp motor it is more powerful than the cheap oscillating multi-tools. Despite the the powerful motor it is still relatively lightweight and quiet. It is a quality piece of equipment with a very attractive price tag, you get excellent value for your money.
The Rockwell RK5140K Sonicrafter is made in China. Not everyone likes tools made in China but the RK5104K is a quality tool. It comes with a two-year limited warranty.
Pros
Powerful
Quick and easy blade changes
Plenty of accessories and blades available
Excellent value for the money
Cons
Rockwell RK5140K Sonicrafter Specifications
| | |
| --- | --- |
| Power Input | 3.0 Amp |
| Voltage | 120V ~60Hz |
| Oscillation Speed | 5000-20000 opm |
| Oscillation Angle | 3.2° |
| Variable Speed Dial | Yes |
| Cord Length | 10 ft |
| Machine Weight | 3.3 lbs |
| Warranty | 2 Years |















The following is included with the Rockwell RK5140K Oscillating Tool
1 Sanding Pad (RW8938)
3 Sanding Sheets (RW9145)
1 3-1/8″ HSS Semicircle Blade (RW8928)
1 1-3/8″ Bi-metal End Cut Blade (RW8929)
1 Rigid Scraper Blade (RW8921)
1 Carbide Semicircle (Grout) Blade (RW8925)
1 Sonishear (RW8943)
1 Hard Case
Rockwell RK5140K Sonicrafter Customer Reviews
Given that the customers have given the Rockwell RK5140K an average rating of 4.7 out 5, it is quite clear that most people are very happy with their RK5140k. Virtually all customers very happy with the tool-free blade changing system and the fact that almost every brand of blade can be used.
Almost everyone thought the RK5140K was powerful and easy to operate. Most customers thought that they had got excellent value for their money.
Apart from a few units that had broken down (which was covered by the warranty), no serious complaints could be found.
Here are some typical customer comments:
"This is a great everything tool. Easy to use and not heavy. We are remodeling and I find myself reaching for it to do almost everything."
"Quality tool with an amazing amount of of uses. Well worth the investment. Have done a substantial amount of remodeling & wish I had this tool years ago."
"Have found that after market blades perform as well or better than OEM @ at a much cheaper price. Rockwell hit a home run with this model."
"Love it! The quick release blade change feature is what sold me. The compact hard case for storage is convenient as well."
Customer comments were paraphrased to save space.
You can read more Rockwell RK5140K reviews here
Rockwell RK5140K Sonicrafter Oscillating Multi Tool Review Summary
You can find cheaper oscillating multi-tools than the Rockwell RK5140K but they are not as good as the RK5140K. The RK5140K is powerful and it is very easy to change blades. You get excellent value for your money. If you are looking for a good oscillating multi-tool then you should have a closer look at the Rockwell RK5140K Sonicrafter.
You can buy the Rockwell RK5140K Sonicrafter from Amazon.com, taking advantage of Amazon's low prices and excellent customer service. Click here to go to Amazon.com and have a look at the Rockwell RK5140K Sonicrafter.