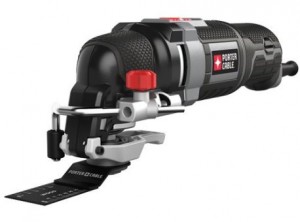 Average Customer Rating: 4.4 out of 5 [xrr rating=4.4/5]
Oscillating multi-purpose tools often offer good value for the money. But one has to be careful, some multi-purpose tools are not really good for anything. Fortunately, the Porter-Cable PCE605K is one of the best oscillating multi-tools. Thanks to relatively the low prices, you get very good value for your money.
The Porter-Cable PCE605K is good for a lot of DIY tasks around the house. But if you have heavy tasks to perform, you may prefer to use professional power tools rather than a multi-purpose tool. You can't expect that one tool can do various tasks at the same high quality as a number of dedicated (and expensive) tools.
The Porter-Cable PCE605E is easy to operate and changing blades can be done quickly. The PCE605 features an exclusive Tool Free System for faster accessory changes without the need for wrenches or hex keys.
The PCE605E can get hot during heavy use, so be careful when touching the metal parts. Thanks to the depth gauge, cuts are easy to control.
One small disadvantage is that you can only use blades from Porter-Cable. If you are going to use the PCE605E a lot, you may have to spend a fair bit of money on Porter-Cable blades. If you want to use non Porter-Cable blades, you need to buy an adapter in most cases. The adapter makes changing blades a little more cumbersome.
Note that you get 25 sheets of sandpaper with the PCE605K, 31 accessories means 6 blades and 25 sheets of sandpaper. The long power cable, it is ten feet, makes it possible to do most work without using an extension cord.
The Porter-Cable PCE605K comes with a 3 year warranty and a 90 day money back guarantee.
Pros
– Powerful
– Very good value for the money
– Easy to change blades
– Removable Depth Gauge
Cons
– Adapter required for most non Porter Cable blades
– May get hot during heavy use


Porter-Cable PCE605K Specifications
| | |
| --- | --- |
| Amps | 3.0 Amps |
| Oscillations Per Minute | 10,000 – 22,000 |
| Oscillating Angle | 2.8° |
| Blade Change | Tool Free System |
| Length | 11 |
| Weight | 3.7 lbs |
| Power Cord | 10 feet |
The following is included with the Porter-Cable PCE605K:
– Kit Box
– Wood Blade (32mm)
– Wood / Metal Blade (32mm)
– Flush Cut Blade
– Sanding Platen
– 25 Sheets of Sandpaper
– Flexible Scraper
– Depth/Cutting Guide


What the Customers Say About the Porter-Cable PCE605K Oscillating Multi-Tool
With a customer rating of 4.4 out of 5, most customers are happy with their Porter-Cable PCE605K. Almost every one was happy with the power of the 3 Amp. motor, the variable speed and the depth gauge. Most people were happy with the tools free blade changing system but some had also noticed that an adapter was necessary for non Porter-Cable blades.
Several customers were a little bit disappointed to find out that out of the included 31 accessories, 25 were sheets of sandpaper. You still get good value for your money but only six accessories are included.
Here are a few customer quotes:
"It's only been a few days but so far not a thing to dislike about this little puppy. The 3 amp motor is quite strong and should do about anything short of really thick cutting. The exchange of attachment heads is excellent, quick and easy and stable, better than most multis I've used. The depth guide sure is handy, as is the variable speed motor, which is perhaps the best thing about this tiny beast."
"The last version of the Porter-Cable Multi-Tool was a great tool, but they've taken something that was already excellent and improved on it."
"Very powerful,easy to change blades, great bang for your buck. This tool will get you out of a bond, highly recommended."
Customer comments were paraphrased to save space.
You can read more Porter-Cable PCE605K customer reviews here


Porter-Cable PCE605K Oscillating Multi-Tool Review Summary
The Porter-Cable PCE605K offers very good value for the money. It may not be good enough heavy-duty tasks but it is suitable for a lot of DIY tasks around the house. If you are looking for a cheap but good oscillating multi-purpose tool, the PCE605K is worth having a closer look at.
You can buy the Porter-Cable PCE650K Oscillating Multipurpose Tool at Amazon.com, taking advantage of Amazon's low prices and excellent customer service. Click here to go to Amazon.com and check out the PCE650K