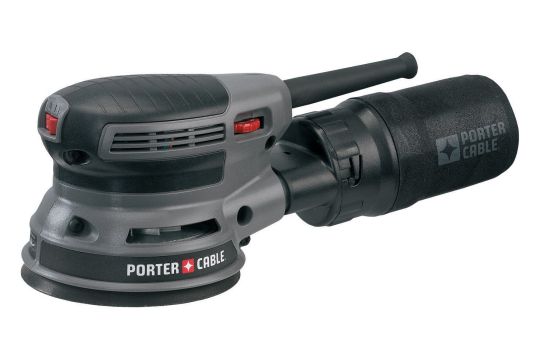 Average Customer Rating: 4.2 out of 5 [xrr rating=4.2/5]
A five-inch random orbit sander is a popular tool for a wide variety of projects. The Porter-Cable 390K low-profile model features a convenient palm grip that is 30 percent shorter than competitors' products, making it easier to control and reducing fatigue. The Porter-Cable 390K random orbit sander offers variable speed control, which provides the perfect amount of power for a wide range of sanding needs, including smoothing seams, boat-bottom work, coating removal and aggressive sanding work. The electronic motor break reduced spin-down time from 10 seconds to about three seconds, making it much quicker to change pads and get back to work. Another fantastic feature is the integrated dust port, which works with one or 1.5-inch vacuum hoses to remove much of the dust generated by sanding.
Porter-Cable 390K Random Orbit Sander Features:
• Compact, yet powerful enough to take on heavy-duty jobs
• Low-profile design makes it easier to work with and reduces strain
• Variable speed allows for optimal removal rate on any material
• Integrated dust collection system for a cleaner, healthier workspace
The Porter-Cable 390K Random Orbit Sander comes with a 3-year warranty.


Porter-Cable 390K Random Orbit Sander Owner Reviews
Overall, reviewers were pleased by the performance of the Porter-Cable Random Orbit Sander, citing its low center of gravity and constant response motor as popular attributes. The constant response motor delivers the right amount of power regardless of how hard or soft the user presses, resulting in an even finish in the shortest amount of time. The break, which allows users to quickly change pads or set the tool down almost immediately after powering it down were also popular features.
The low-profile design was also a popular feature, allowing users to fit the Porter-Cable sander into spaces that typical sanders wouldn't have fit. Many reviewers also praised this unit for its quieter motor and stated they experienced less hand vibration with the Porter-Cable model than they did with comparable tools.
Although the manufacturer's information states this sander features a compact head, which makes it easier to grip, several reviewers stated the head was rather large and they had difficulty wrapping their hand around it or using it for long periods of time. This may not be an issue for most users, but for anyone with small hands who needs to use a sander for long periods of time, some additional research, or perhaps a test drive, might be in order.
While several reviewers praised the dust collection system, other pointed out that it is not the most efficient system for removing dust during a sanding project. Also, a hose is required to hook the sander up to an existing vacuum. One reviewer stated he hooked the sander up to his shop vac and it removed more dust than hooking it up to a standard vacuum hose.
A couple of reviewers mentioned that their on/off switches were a bit tricky and that the unit "danced" around on the surface being sanded leaving a bad finish. Most reviewers praised the finish and the unit itself, so it is difficult to say whether these were just faulty units or these really are issues.
Many of the reviewers stated that they own more than one sanding tool, but that the Porter-Cable model has quickly become their favorite go-to tool for all sanding jobs. Its low-profile, compact design, combined with the powerful motor and dust removal system make it a great choice for any workshop.


Porter-Cable 390K Random Orbit Sander Review Summary
If you are looking for a powerful but compact and lightweight random orbit sander, then the Porter-Cable 390K is worth having a closer look at. Additionally, the Porter-Cable 390K random orbit sander is quiet, generates very little vibrations and the dust collection is excellent. You have a number of excellent random orbit sanders to choose from, the Porter-Cable 390K is one of them.
You can buy the Porter-Cable 390K Random Orbit Sander at Amazon.com, taking advantage of Amazon's low prices and excellent customer service. Click here to go to Amazon.com

Average Customer Rating: 4.2 out of 5 [xrr rating=4.2/5]