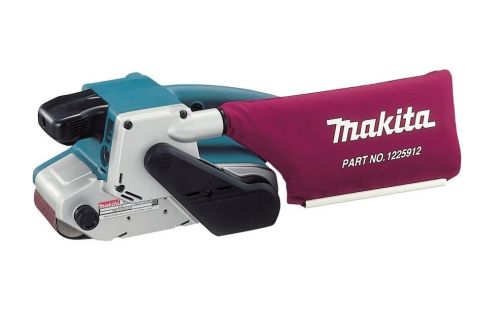 Average Customer Rating: 4.7 out of 5 [xrr rating=4.7/5]
The Makita brand is well-known throughout the power tool community for its quality power tools and the Makita 9903 Belt Sander is no exception. This 8.8 amp variable speed belt sander is the quietest in its class at only 84 decibels, yet it delivers beautiful results on a wide variety of surfaces. This belt sander features a 3 x 12-inch sanding surface with an auto-tracking belt system that keeps track of the belt position, making manual adjustments unnecessary. The system also comes with a cloth dust bag, which removes the majority of the dust generated by sanding. Additional features include a front and rear grip and low-profile design that allows users to sand flush to a wall. The optional sanding shoe allows precise depth control.
The Makita 9903 Belt Sander Features:
• 16.4-foot power cord allows users to use this sander nearly anywhere
• Powerful 8.8 amp motor with variable speed control delivers amazing results on many surfaces
• Two convenient grips and 84 decibel noise output make it easy to use
• Cloth dust bag removes dust as it is generated, reducing the dust in the workspace


Makita 9903 Belt Sander Owner Reviews
The Makita 9903 Belt Sander earned four and a half out of five stars from its reviewers. The majority of reviewers were completely satisfied with this product, listing the auto-tracking system and quietness as two of the most popular features. One reviewer recommended using the purple 3M brand sanding belts for best results, although nearly all of the reviewers commented that the belt stays put and doesn't need constant adjustments. Reviewers were also pleased with how easy it is to change the belt on the Makita 9903 Belt Sander.
Another handy feature mentioned by several reviewers is that this sander can be flipped over and clamped to a work bench to create a stationary sander. This allows for easy hand-shaping of edges as the user holds the wood in hand and runs it back and forth over the sander as needed.
Many reviewers own or have owned several belt sanders and have stated that the Makita 9903 is by far their favorite sander. Other reviewers have owned a variety of Makita products over the years and were pleased to report that this belt sander live up to the Makita name.
There were only a couple negative reviews about this belt sander and neither one had anything negative to say about the product. The first reviewer who gave it only one star stated that the sander had been used before he purchased it, which was his reason for giving it only one star. The second negative reviewer titled his review "perfect belt sander" and praised the product, yet only gave it one star, so it's possible his rating was unintentional.
The Makita 9903 Belt Sander is an exceptional belt sander, which is also capable of pulling double duty in the workroom by acting as a stationary sander. Several reviewers stated this unit has replaced all other belt and stationary sanders in their arsenal and customers are very happy with the quality and functionality of the tool.


Makita 9903 Belt Sander Review Summary
The Makita 9903 8.8 Amp 3-Inch-by-21-Inch Variable Speed Belt Sander with Cloth Dust Bag is an excellent sander. It is fairly lightweight but powerful. The Makita 9903 is also quiet and has very good dust collection. It is not the cheapest belt sander but it is one of the best. All in all, the Makita 9903 belt sander gives you very good value for the money.
You can buy the Makita 9903 Belt Sander at Amazon.com, taking advantage of Amazon's low prices and excellent customer service. Click here to go to Amazon.com

Average Customer Rating: 4.7 out of 5 [xrr rating=4.7/5]